On hand to help with tyres in Sherburn in Elmet
Based just 20 minutes away from Sherburn in Elmet, Crossley Tyres' dedicated team have the knowledge and experience to get you back on the road with confidence. Equipped with state-of-the-art vans and skilled technicians, our mobile tyre fitting service allows you to have your tyres fitted at a time and location that suits you best.
Our extensive stock boasts a wide selection of top-quality tyres suitable for all vehicle types and budgets. We go the extra mile to ensure you receive the most competitive price on tyres in the Sherburn area.
Experience the ease of our online booking system designed to help you effortlessly find the right tyres for your car, compare prices, and book your fitting appointment within minutes. All you need is your car registration or tyre size to get started.
At Crossley Tyres, our dedicated team go above and beyond to ensure your needs are met. Our professional and friendly approach sets us apart and keeps our customers coming back. Count on us for all your tyre needs!

The simple way to buy tyres online and book mobile tyre fitting at your home or work in Sherburn
With our user-friendly online booking system, ordering new tyres with fitting at your home or work has never been easier. Get the right tyre, the right size and at a time that suits you with these three simple steps:
Enter your registration and our Tyre Finder will display tyres suitable for your car.
Choose from our extensive range of affordable car tyres.
Book a convenient date and time for your mobile tyre fitting appointment.
That's it! Enjoy a hassle-free experience from start to finish. At Crossley Tyres, we go the extra mile to ensure exceptional service.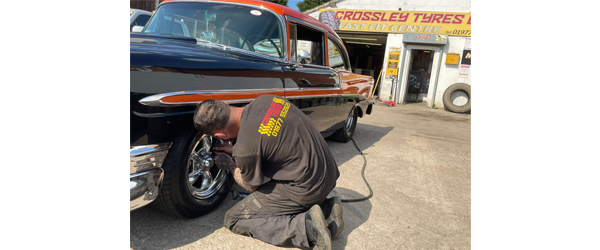 Sherburn Tyre Specialists
Choose our experienced tyre fitting team for exceptional service. At Crossley Tyres, we understand the unique requirements of cars and take great pride in delivering a seamless and convenient experience.
Shop our full range of premium, mid-range and budget tyres online
At Crossley, we understand the importance of finding the perfect set of tyres for your car. Choose from an impressive line-up of trusted brands such as Maxxis, Bridgestone, Continental, Dunlop, Triangle, Goodyear, Michelin and Pirelli. We believe that everyone deserves access to high-quality tyres, regardless of their budget. Rest assured, each brand in our collection has undergone rigorous testing to ensure durability, safety and reliability.

Expert mobile tyre fitting in Sherburn-in-Elmet and surrounding areas
Say goodbye to the inconvenience of visiting your local garage. With our mobile tyre fitting service, we bring convenience directly to your door! No need to leave the comfort of your home or office - let us handle the tyre fitting process effortlessly.
Our extensive range of tyres, coupled with our fully equipped vans, means that we can replace your car tyres wherever you may be. Equipped with the latest technology for tyre changing and balancing, our professionals guarantee swift and safe tyre replacement.
Whether you're at home or work, Crossley Tyres have you covered. Simply call us on 01977 552829 or book online for hassle-free tyre services just for you.
Let us take care of your tyres while you focus on what matters most. Contact us today and experience the ease and efficiency of our mobile tyre fitting service in Sherburn-in-Elmet and the surrounding areas.

Additional services from Crossley Tyres
Tyre Repairs and Maintenance
Trust our dedicated tyre experts to keep you safe on the road. Simply call us to arrange a tyre inspection and we'll assess the extent of the damage and whether your tyres can be repaired or need to be replaced.
Professional Wheel Alignment Services
Potholes and curbs can disrupt your wheel alignment, impacting both tyre wear and vehicle performance. Our state-of-the-art wheel alignment machines offer precise readings so our skilled technicians can make accurate adjustments for optimal alignment and performance. Call us to book today.
Tyre Pressure Monitoring System (TPMS)
Tyre Pressure Monitoring Systems (TPMS) play a vital role in monitoring tyre pressure. These systems notify you through a dedicated light on your dashboard if your tyre pressure is running low, serving as an early warning for potential issues. When the TPMS light illuminates, it is important to inspect your tyres as it may indicate a possible puncture or other concerns. Call us and our tyre experts will check your tyres are safe and not suffering from a loss of pressure.
Experience Unmatched Excellence - Reasons to Choose Crossley Tyres
Honest and Transparent Pricing
As an independent and local business, we believe in honest and transparent pricing. With just a click, you can shop our competitive prices online and get the best value for your money.
We Bring the Garage to You
Experience the ultimate convenience with our mobile tyre fitting service in Sherburn and the surrounding local area. Simply book your fitting online, and we'll come to your home or workplace. No matter the type of vehicle you own, whether it's a car or a van, our dedicated team is here to assist you.
Extensive Range of Tyres
Shop our huge selection of premium, mid-range and budget tyres online. From budget-friendly options like Triangle, to high-quality mid-range brands such as Maxxis, and leading premium brands including Continental, Bridgestone, Michelin, and Pirelli, we have the right tyre to suit your needs and budget.
Get The Best Service and Price
Choose Crossley Tyres for outstanding service, fantastic prices and hassle-free mobile tyre fitting in Sherburn in Elmet and the surrounding areas.
Need tyres? Make the smart choice and book online with Crossley Tyres today.
Frequently Asked Questions
1. How long does tyre fitting take?
Typically, tyre fitting takes around 30 minutes per tyre. If you need additional services, such as wheel balancing or alignment, it may take longer. Our experience tyre fitters are experts and will ensure that they don't take up too much of your day.
2. What factors affect the lifespan of my tyres?
The lifespan of your tyres depends on several factors, including the quality of the tyres, the driving conditions, your driving habits, and the frequency of maintenance and checks. Tyres that are subjected to extreme driving conditions, such as rough roads or extreme temperatures, may wear faster.
3. Can tyres be fitted at home, on the driveway or at work?
Our expert mobile tyre fitters will come to you, wherever you are - whether it's your home, workplace, gym or any other location that suits you! All we need is enough room to safely access the vehicle, remove the old tyre and replace it with your new tyre. Book online today!