Tyres Pontefract
Crossley Tyres is a friendly and family-run tyre shop providing a full range of tyre services. As an independent business, we pride ourselves on offering excellent customer service and competitive tyre prices. Visit us in-store or use our online system to book mobile tyre fitting in Pontefract.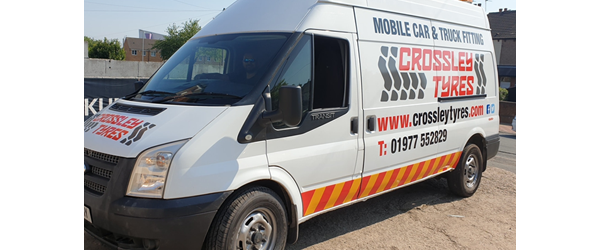 Expert Mobile Tyre Fitting in Pontefract
Our mobile tyre fitting vans are equipped with professional tyre changing and balancing technology so wherever you are, our experts can replace your tyres quickly and safely. We can fit your new tyres at home, work or roadside. Simply shop and book your appointment online.
Order Tyres Online
Get new tyres in three simple steps by ordering through our online tyre shop! Simply enter your registration or tyre size, add the tyres to your basket and book tyre fitting at our tyre shop in Castleford. All orders include replacement valves, wheel balancing and disposal of your old tyres.
Free Tyre Safety Checks – Pontefract, Castleford and other local areas!
Worried about the condition of your tyres? Visit our experts in store and we will carry out a free inspection to check your tyres are safe and legal. For more information about looking after your tyres and UK tyre law, check out our blog.
Wheel & Tyre Services near Pontefract
In addition to supplying and fitting car tyres near Pontefract, we also offer TPMS services, tyre repair and wheel alignment.
TPMS
All vehicles manufactured after 2014 have Tyre Pressure Monitoring Systems (TPMS) integrated as standard. The purpose of this is to notify you if your tyre pressure is low. If a TPMS light appears on your dashboard, we recommend inspecting your tyres as you could have a tyre puncture.
Tyre Repair
Where possible, our experts can repair your tyre. If your tyre appears damaged (e.g. there is a nail in the tyre) or you notice your tyre is struggling to stay inflated, call our team to book a tyre inspection. Our experts will carry out a full inspection of your tyres and advise you if a safe repair is possible.
Wheel Alignment
Accurate wheel alignment improves vehicle handling and helps maximise tyre life. Hitting potholes or bumping curbs can cause misalignment. Our alignment machines display precise readings for our technicians to make adjustments and ensure optimal performance.
Our tyre experts are on hand to help you and offer peace of mind. Simply call us or pop into our garage today to book our tyre or wheel services.

Why choose Crossley Tyres?
If you are looking for mobile tyre fitting in Pontefract, Crossley Tyres is the right choice for you. We bring the expertise of our garage to you.
Great Prices – As an independent and local business, Crossley Tyres are proud to offer competitive tyre prices.
We Come To You – Our professional mobile tyre fitting service offers ultimate convenience. Book fitting at your home or work online.
Huge Range of Tyres – We supply and fit a full range of tyre brands! From budget-friendly brands such as Triangle, high-quality mid-range brands like Maxxis and leading premium brands including Continental, Bridgestone, Michelin and Pirelli.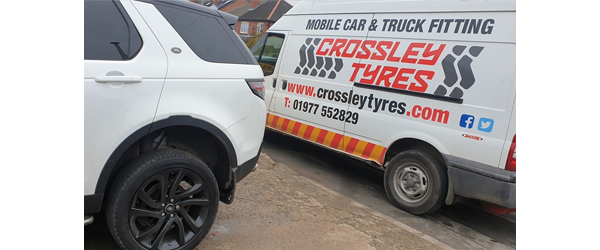 Don't take our word for it!
We take great pride in offering a professional service that customers can trust and rely on. See what they have to say about us below.
"Highly recommended Crossley Tyres. Excellent customer service and workmanship!! Wouldn't go anywhere else."
Lindsey, Google My Business Review

"Very efficient and competitive price wise. Definitely go there again."
Les, Google My Business Review
"The guys were very friendly and professional. A good fast and well priced service. Will use again."
John, Google My Business Review

"Top lads, friendly and very helpful. Service was quick and good prices, no rip offs like the bigger garages!"
Ian, Google My Business Review

Frequently Asked Questions
How do I check my tyre size?

A series of numbers and letters are printed on the sidewall of a tyre. This represents the size of a tyre. For more information about the writing on your tyres, please see our Tyre Blog.
What tyre brands can you supply for mobile tyre fitting in Pontefract?

Crossley Tyres supply and fit a full range of tyres designed to suit your driving style and budget. This includes leading premium manufacturers including Bridgestone, Continental, Dunlop, Goodyear, Hankook, Michelin, Pirelli and Yokohama. We are also your exclusive local Maxxis tyre retailer – a top-rated mid-range brand offering exceptional performance at an affordable price. We also stock a host of high-quality budget tyres.
Can tyres be fitted at my home in Pontefract?

You can have your tyres fitted at home, work or any other location that is convenient for you. Our mobile tyre fitters come to you and replace your tyres there. Book your appointment online.

How long does it take to fit tyres in Pontefract?

Open six days a week and offering next-day appointments, replacing your tyres is quick and easy thanks to Crossley Tyres mobile fitting team. A typical tyre fitting takes approximately 30 minutes per tyre.