Tyres Knottingley - Expert Mobile Fitting by Crossley Tyres
Crossley Tyres is a leading family-run tyre shop based 15 minutes from the town of Knottingley. We have the expertise and experience to get you back on the road fast. With our state-of-the-art mobile tyre fitting vans and experienced team, you can order tyres online and have them fitted at a time and place that suits you.
We stock a vast range of quality tyres to suit all types of vehicles and budgets, and we work hard to ensure that you get the best deals on tyres around Knottingley. Using our online booking system, you can find the exact tyres for your vehicle, compare prices and book your fitting in minutes. Simply enter your car registration to get started.
At Crossley Tyres, we aim to provide the highest levels of customer service and satisfaction, and we pride ourselves on our professional and friendly approach. It's this commitment that means for years, customers have been coming back to us time and time again. Book online or call us today.

Buying Tyres Online - How It Works
Effortlessly arrange tyre replacement around Knottingley with our handy online tyre booking system - in a few quick steps, you'll have selected your car tyres and booked tyre fitting from the comfort of your home. Here's how it works;
Enter your registration, and we'll find the right tyres for your vehicle

Choose from a wide selection of affordable tyres

Book your appointment

That's it! It really is that simple. What's more is that once booked, you can rest easy knowing that all our orders include replacement valves, wheel balancing, and responsible disposal of your old tyres. Say hello to convenient tyre replacement with Crossley Tyres!
We Stock A Diverse Range of Leading Brands With Fast Fitting
Choose your new tyres from our extensive range. We stock leading premium brands including Bridgestone, Continental, Dunlop, Goodyear, Michelin and Pirelli. As well as reliable mid-range tyres such as Maxxis and Nexen, and trusted budget brands like Triangle.
At Crossley Tyres, we cater to your vehicle needs with a huge choice of tyres fitted at home, work or our garage.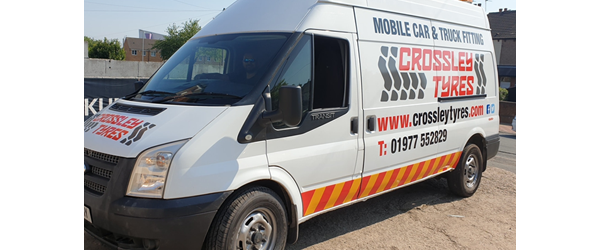 Mobile Tyre Fitting Knottingley
Skip the hassle of going to your local garage, we'll come to you! We offer mobile tyre fitting in Knottingley, so you don't have to worry about leaving the comfort of your home or office. Thanks to the range of tyres we stock and our highly equipped vans, Crossley Tyres can offer the convenience of replacing your tyres wherever you are.
Equipped with cutting-edge tyre changing and balancing technology, our skilled professionals ensure quick and safe tyre replacements. Whether you're at home, at work, or stranded on the roadside, we've got you covered. Simply give us a call or use our online tyre finder to select and book a convenient time and place that works for you.
Tyre Repairs To Keep You Fit For The Road!
Trust our expert technicians for reliable and efficient tyre repairs. Our team is dedicated to getting you back on the road safely. Should you encounter a damaged tyre, such as a puncture from a nail, or notice a continuous loss of air pressure, simply contact our team to schedule a comprehensive tyre inspection. Our knowledgeable experts will thoroughly assess your tyres and provide expert guidance on the possibility of a safe and effective repair. Check out our tyre blog to read more about looking after your tyres.
Expert Wheel Alignment Services
Unfortunate encounters with potholes or curbs can throw your wheel alignment out of balance. Our advanced alignment machines provide our skilled technicians with accurate readings, enabling them to make precise adjustments for optimal performance. Call to find out more about Crossley Tyres wheel alignment services.
Tyre Pressure Monitoring Systems
All vehicles manufactured post-2014 have Tyre Pressure Monitoring Systems (TPMS) as a standard safety feature. These systems monitor your tyre pressure and notify you with a light on your dashboard if it's running low. When the TPMS light illuminates, it's crucial to promptly inspect your tyres, as it may indicate a potential puncture. If you have a query about your TPMS sensor, contact Crossley Tyres today.
Why choose Crossley Tyres?
If you're looking for convenient mobile tyre fitting in Knottingley, then Crossley Tyres is the place for you!
Great Prices - As an independent, honest and local business, we pride ourselves on competitive prices.
We Bring the Garage to You - Our professional mobile tyre fitting service ensures ultimate convenience. Book tyres online, and we'll visit your home or workplace. Every car, every van, every vehicle, we're here to help.
Extensive Tyre Selection - Discover a vast range of the latest and best tyre brands at Crossley Tyres! From budget-friendly options like Triangle, to high-quality mid-range brands like Maxxis, and leading premium brands including Continental, Bridgestone, Michelin, and Pirelli.
Don't settle for less - choose Crossley Tyres and enjoy the convenience of mobile tyre fitting at your home in Knottingley.
Frequently Asked Questions
What is the price of your tyre fitting service?
The price of our tyre fitting service depends on the type of tyre you choose, the size of your vehicle, and other factors. However, we offer some of the most competitive prices around Knottingley. We don't hide any prices, and our staff are always on hand to help. Use our online tyre finder to get a quote for your tyres now.
How do I know which tyre size to choose?
Thanks to our online tyre finder, enter your registration, and we'll match you with the standard fitment for your vehicle.
Why do I need to fit new tyres?
New tyres can provide better traction, handling, and safety on the road. They can also improve fuel efficiency and reduce the risk of blowouts or other tyre-related problems. The legal limit for minimum depth of the tread on your tyres is 1.6 millimetres across the central three-quarters. For safety reasons, it is recommended that you replace your tyres before the legal limit is reached. Check out our tyre blog for more information about UK tyre law.
How long does it take to fit tyres in Knottingley?
Open six days a week and offering next-day appointments, replacing your tyres is quick and easy, thanks to Crossley Tyres mobile fitting team. A typical appointment takes approximately 30 minutes per tyre.